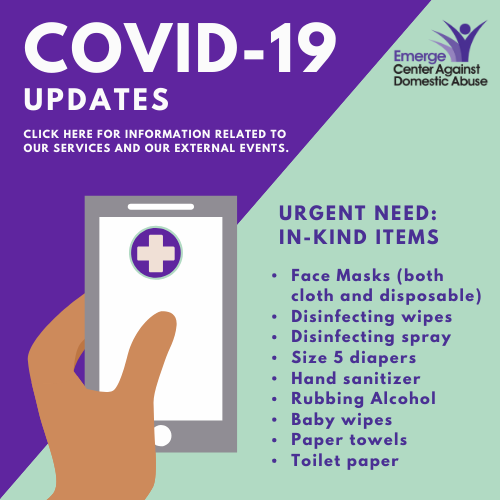 Every day, Emerge takes the health and wellness of the community seriously. It is what drives our staff to do this work, and allows survivors of domestic abuse to trust us to support their healing.
The health and wellbeing of our participants, staff, volunteers, and the broader community are at the top of our minds as Emerge continues to monitor the COVID-19 situation in Pima County. Here are the updates related to our services and our external events.
Please check back for updates as the situation evolves.
Precautions for all Emerge sites:
All individuals (staff, program participants, vendors, donors) visiting Emerge must follow the following precautions:
Anyone entering an Emerge site will be screened for COVID-19 symptoms (cough, fever, shortness of breath). If symptoms are present, you will not be able to enter the building. This includes If you have been exposed to anyone with COVID-19 symptoms in the last 14 days.
Anyone entering an Emerge site must wear a mask. This is a mandatory organizational policy. If you do not have a personal mask, we will provide a disposable one. Personal masks are preferred, if possible, as our supplies are limited.
When entering an Emerge site, you will be asked to do the following:

Take your temperature
Wash your hands or use hand sanitizer
Continue enacting social distancing measures: stay 6 feet away from others in order to reduce spread.
Domestic Abuse Services and Survivor Safety
Community-Based Services: Su Futuro and Voices Against Violence(VAV) sites
Domestic Abuse Services and Survivor Safety
Emerge is considered an essential emergency service and remains open and operational. However, in order to best balance the needs and the safety of the community and Emerge staff, the following temporary changes are in effect:
Emerge's 24/7 multilingual hotline is still up and running. If you are in crisis, please call our hotline at 520-795-4266 and we can provide help in the moment and/or connect you to additional services through other Emerge programs.
Community-Based Services: Su Futuro and Voices Against Violence (VAV) sites
At this time, walk-in services are still suspended until further notice.
In-person services will resume on July 6th with social distance measures in place. Please note that anyone accompanying a program participant will not be permitted to enter until further notice. If a participant has children accompanying them, they will be permitted to enter, but also must wear masks and have their temperature checked.
Telephonic services will remain available based on the program participant's needs and preferences.
For new participants interested in enrolling in community-based services: please call our VAV office at (520) 881-7201 to schedule a telephone intake appointment.
If you receive ongoing services at Voices Against Violence (22nd St) please call (520) 881-7201 to schedule a video or telephone appointment.
NEW – Starting Monday, June 15th, services at our site Voices Against Violence (VAV) will have new extended hours between Monday through Friday from 7:30 am to 8:00 pm, and Saturdays from 8:30 am to 5:00 pm.
If you receive ongoing services at Su Futuro please call (520) 573-3637 to schedule a video or telephone appointment.
All calls to these sites will be routed to a staffed phone.
If you have a scheduled appointment at VAV or Su Futuro and it is no longer safe for Emerge to call you, or you can no longer keep your appointment because of safety issues, please call our office at 520-881-7201 (VAV) or (520) 573-3637 (SF) and let us know.
Lay Legal Services: If you need support with a legal issue and/or you would like to talk to someone about obtaining an order of protection telephonically through Tucson City Court, please contact the VAV office at 520-881-7201.
Emergency Shelter
We are taking every precaution to ensure that the communal environment in which survivors and their children live is as clean and safe as possible.
In order to maintain this environment, we are triaging intakes carefully to ensure the health of the families and our staff are taken into consideration. We are still accepting participants into shelter, however, due to social distancing, bed availability at our shelter facility will fluctuate in order to maintain a healthy, safe environment. Please contact the 24/7 multilingual Hotline at 520-795-4266 to inquire about space at shelter, safety planning and support exploring other options.
Men's Education Program (MEP)
If you are currently participating in MEP, staff will be contacting you to set up telephonic appointments.
If you're interested in learning more about how to participate in MEP, please call 520-444-3078 or email MEP@emergecenter.org
Administrative Services
Emerge's Administrative site at 2545 E. Adams Street has limitations and some restrictions for conducting regular business and so please contact us before you come to the office. Administrative staff are partially working from home to ensure continued operations of our essential services. If you need to reach an administrative staff member, please call 795-8001 and someone will return your call within 24 hours. Walk-in services are suspended until further notice.
Donations
In-kind donations: at this time, we are only able to receive donations between 10a and 2p, Monday through Friday at our administrative office at 2545 E. Adams St. If you have in-kind donations for Emerge, please bring them during that time. If you do NOT need a gift receipt, please leave them on the porch. If you do need a gift receipt, please ring the bell between 10a and 2p and someone will assist you. If you're interested in supporting Emerge at this time, please visit: www.emergecenter.org/donate
Urgent Need: In-kind Items
Now that concerns about COVID-19/coronavirus have ramped up substantially in Pima County, our community is taking appropriate, necessary steps to protect ourselves. However, it also means that social service nonprofits serving vulnerable populations, like Emerge, can no longer readily access crucial items that can help keep domestic abuse survivors – who are communally living in our emergency shelter – safe from the potential spread.
If you have an abundance of these items and you're willing to donate part of your supply to help us keep domestic abuse survivors and their children safe, Emerge is currently in need of
Face Masks (both cloth and disposable)
Disinfecting wipes
Disinfecting spray
Hand sanitizer
Rubbing Alcohol
Baby wipes
 
We know many people need these items at this time, and we appreciate your consideration.