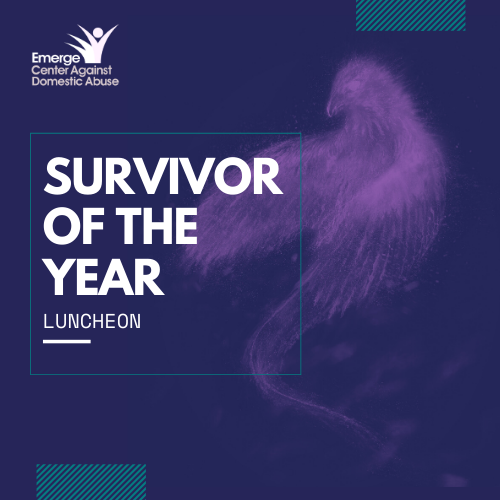 Every day, Emerge takes the health and wellness of the community seriously. It is what drives our staff to do this work, and allows survivors of domestic abuse to trust us to support their healing.
In light of COVID-19, we will be rescheduling our annual Survivor of the Year Luncheon for October 12, 2020 at J.W. Starr Pass. While we typically hold this celebratory event in the spring, we find it fitting to hold it this year during October, during Domestic Violence Awareness Month (DVAM). Our hope is that holding this event during DVAM this year will energize the community further to learn about and advocate for ending domestic abuse in our community.
If you have purchased a table, sponsorship or ticket to our event, we'll be reaching out to you individually to discuss options.
Please remember that despite the presence of this serious virus and the ways our community needs to respond for public health reasons, domestic abuse survivors are still experiencing violence. And now that our community is beginning to shut down and isolate further, that means domestic abuse survivors are forced to also isolate in the very spaces that may threaten their lives – not because of illness, but because of abuse.
We continue to need your support to ensure our operations can remain sustainable at this time. While many services in our community, and even some at Emerge, can be delivered telephonically/electronically, our shelter operations cannot. In order to continue running this vital operation in our community, we have taken extra precautions in our communal shelter to ensure everyone will stay as safe and healthy as possible.
We know this is a time of uncertainty for all, and we appreciate your support of Emerge at this time.
Our 2020 Sponsors!

---